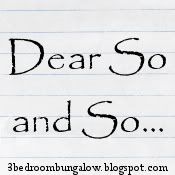 Dear Slightly Dizzy Nurse
Thanks so much for making my Dads stay very comfortable. Just a suggestion though. I think you scared the hell out of him when you said he'd look like a patient from those "scary medical dramas with tubes coming out everywhere." Actually, I was pretty speechless too and when you started gesturing for effect that thud you heard was my Dads jaw hitting the floor. You were fantastic other than that though.
Dear Very Camp Nurse
I love your shocking red hair. It definitely added some colour to an otherwise drab ward. I did feel a bit sorry for that patient though. You know, the one that thought his morphine was his buzzer to call you. I even giggled when you told him "he's probably away with the fairies but at least he's not in any pain!". I think that look he gave you wasn't drowsiness though; I think he wanted to punch you in the face. Just saying.
Dear Guy in the Car Park
Sorry. My brother and I were circulating the damn car park for ages and did that thing where you spot someone walking back to their car and start following them rather slowly (and creepily) to bag a space. I suggested to my brother I thought it would be funny, if you were to turn around and look at us, to turn off the car lights very quickly (so you'd think the car was stationary. Genius). He added it would be funnier to dive down to pretend no-one was in it. (How scary would that be if it actually happened!). We laughed hysterically at the thought of it and, when you did turn around, I didn't think my brother would actually dive down to hide. I was slightly stunned too and then laughed like a drain. Thankfully (I think) you didn't think we were too odd. I felt quite guilty when you then helped me squeeze my car into the tiny space. Sorry again. It had been a long week with my Dads op and it was just a way of releasing some tension.
Dear Staff, Nurse and Surgeons at Manchester Hospital
Thanks very much for fixing my Dads heart. I know you kept telling us not to worry and that heart surgery has come a long way but it's still amazing isn't it, what you can do inside a heart. I know I should have remembered what a Mitral Valve was from my A level Biology days but Wikipedia gave me a good read! And you do 4 ops a day? Bloody hell, you are good. I really hope the Government doesn't mess up the NHS. For all the crap red tape and gripes, it does an amazing job. Hats off to you!